The_Noble_Cause wrote:

verslibre wrote:Who

lost

their jobs? That's conjectural hoo-hawing. Some people moved because they wanted to move (like Johns). Hence the vacancy filled by Hamada, where Tsujihara (now in a higher seat) was.

Oh sure. And Snyder voluntarily stepped away to spend time with his family.
Show me the official WB statement that goes "Snyder fired from
Justice League
; replacement is
Avengers
director Whedon."
There isn't one. They pulled the lever on a lot of smoke and mirrors. Somebody (I know who) convinced somebody that a massive tonal shift was necessary for the film to be successful. It bombed and WB's been trying to sweep all the rhetoric under the proverbial rug since. Whedon's input did nothing except drag down a framework that had been carefully put into place.
Even you said Snyder should have been allowed to finish
Justice League
. What WB did was despicable. No studio should take advantage of tragedy and proceed to spin a web of lies that will unravel sooner (as it did) than later. If you don't get that, take off the blinders. They're going back to the director-driven model because that's what works.
Btw, the new official Robin pic from DC's
Titans
screams "DCEU":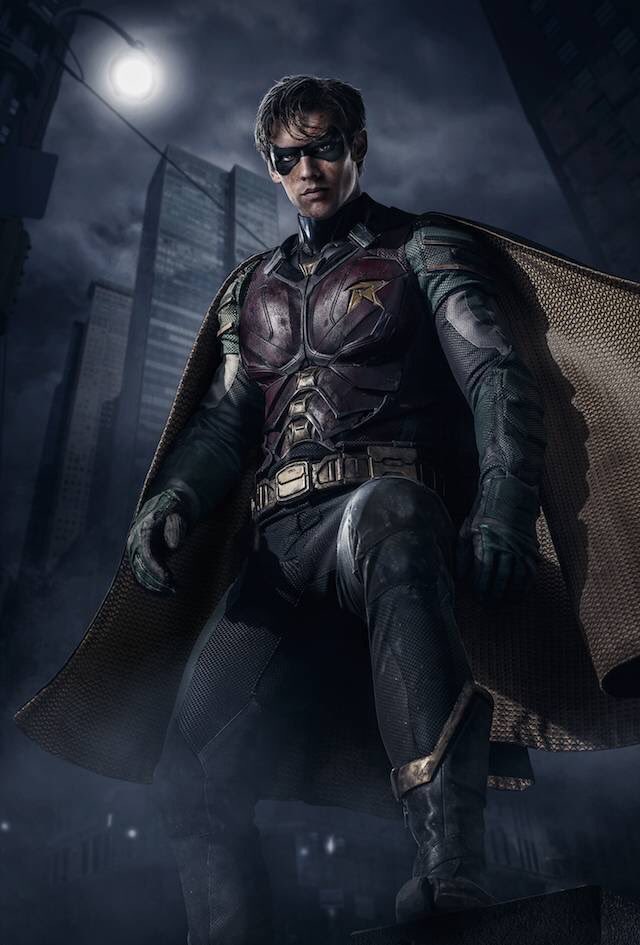 The_Noble_Cause wrote:Production schedules are longer for major franchise pictures. What part of that don't you understand? The days of 1-2 year gaps between films is done.
Gee freakin' whiz. If you think
The Bourne Legacy
was "in production" for five whole years, and
Jason Bourne
was "in production" for four whole years, then John Holmes is alive and blogging about the early days of porn from his home in Encino. You know who John Holmes is, I'm sure.


verslibre

wrote:As already established, ur poorly informed on a range of issues, not just Bond.
Do not move goalposts. Do not oversimplify. Pejoratives have no purpose here.

The_Noble_Cause wrote:

verslibre wrote:Got a problem with hypotheticals? Tsujihara is still in a position of power. He can can something as quickly as Hamada can greenlight it. If you can link or paste an example of somebody saying Snyder's contributions are being retconned, please do so. Meanwhile, the other directors (Jenkins, Wan, Ayer) and the cast all have Zack's back. And Johns isn't saying shit. He even went and formed his own production venture. I wonder where he got that idea.

Please. When Johns took over he said he was going to focus on optimism and fun. Total reversal of the Snyder vision. Cavill acknowledged that there were "lessons learned" from the critical ass-beating of Justice League. Multiple sources said that the Snyders' creative input (including his producer wife) is effectively sidelined. It goes on and on.
JL
's "critical ass-beating" was deserved. It's a Frankenstein. No other two-film sequence short of
Batman Forever
-
Batman and Robin
can boast the Dark Knight's meteoric fall from badass to punchline. Joss' new material sucked and, putting it nicely, his reshoots were mystifying. All the changes WB enacted drove the budget so high there was no chance of breaking even.
Johns had major issues with Zack's early cut of
JL
. Johns started saying crap because he knew he could get away with it. Now he's out of there and has no say. He's gone back to writing. He's a good writer — showrunner, not so much. He was never one officially for long.
The_Noble_Cause wrote:Here's the link to the actual scene again. Posters can view the scene (at 1:20 mins)and decide for themselves.
Why are you sticking only to the same scene? Reluctant to check out some of the examples I cited? Allow me.
That scene from
Beastmaster
. At least 10 seconds' worth of Tanya.
https://www.youtube.com/watch?v=hKlq3WFAoak
Here's Susan Dey's nude outing from
Looker
. Today there's no way this movie would get a PG rating with this scene.
https://www.youtube.com/watch?v=ZnR6WONIfg0
The_Noble_Cause wrote:With the exception of TND, each Pierce film out grossed the previous. The point is, Craig didn't save the franchise. The franchise didn't require saving. If anything, Craig's tenure has hurt the series and given it a major identity crisis.
That's a whole other topic.