I went to The Queen Extravaganza concerts at Humphry's in San Diego, and Club Nokia in Los Angeles. Loved it! I was sorry I only had planned on the two nights! I love the way Jeff does Queen. Marc Martel was awesome. Yvan Pedneault and Jennifer Espinoza have really great voices. The guys in the band, awesome! When they announce more dates...GO!!! I definitely will be at more shows!
Security sucked at Humphry's. They were even busting people for cell phone cameras.

Nokia let me in with my point and shoot, then security decided I couldn't use it. Others around me were using their cameras, so I got a few more pictures. Sorry no videos this time.
Clickable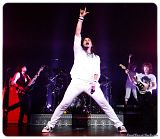 Link to album:
http://loveclassicrock.com/images/qe/no ... index.html