ATTENTION JSS FANS -
We are looking for enthusiastic street team members to help spread the word, on the web and in the streets, about the upcoming JSS solo tour in Europe in April/May 2013. At this time we are focusing on the European cities where Jeff will be playing, but all are welcome to sign up for future missions in all regions.
Prizes will be awarded based on missions completed and points earned. If interested in more information please send your name, e-mail address and mailing address to:
jss_street_team@jeffscottsoto.com
.
SERIOUS INQUIRIES ONLY, PLEASE!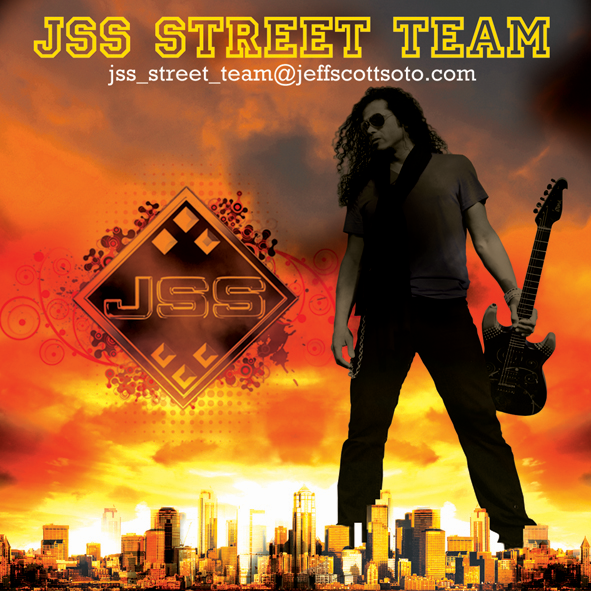 JSS EUROPEAN SPRING TOUR 2013
(Confirmed Dates)
04/04/2013 thu UK Belfast The Limelight
05/04/2013 fri UK Birmingham The Asylum
06/04/2013 sat UK London Camden Underground
07/04/2013 sun UK Rotherham Magna, Rotherham Hard Rock Hell AOR Festival
11/04/2013 thu DE Hamburg Rock N Roll Warehouse
12/04/2013 fri BE Vosselar Biebob
13/04/2013 sat NL Kerkrade Rock Temple
16/04/2013 tue DE Essen Turock
17/04/2013 wed FR Cergy Vaureal(Paris) Le Forum
19/04/2013 fri DE Lichtenfels Paunchy Cats
20/04/2013 sat HU Budapest Club 202
23/04/2013 tue BG Sofia Sofia Club Live
25/04/2013 thu GR Thessaloniki 8ball
26/04/2013 fri GR Athens Kyttaro
27/04/2013 sat GR Ioaninna Cafe Kaplaneio
29/04/2013 mon IT Milan Blues Rock Club
30/04/2013 tue IT Turin Il Peocio
02/05/2013 thu ES Barcelona Razamatazz
03/05/2013 fri ES Valladolid Porta Caeli
04/05/2013 sat ES Santiago de Compastella Sala Capitol
05/05/2013 sun ES Madrid Caracol