Hmmm
http://www.people.com/people/article/0, ... 05,00.html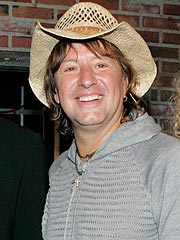 Bon Jovi guitarist Richie Sambora entered an undisclosed treatment facility on Wednesday, a rep for the band tells PEOPLE exclusively.
"Richie Sambora has entered an undisclosed treatment facility in Los Angeles," the rep said in a statement. "He asks that you respect he and his family's privacy at this time."
The specific nature of Sambora's problem was not disclosed.
It has been a difficult year for Sambora, 47. He and actress Denise Richards broke up several months ago after dating for about a year. In April, his divorce from Heather Locklear was finalized. And that same month, his father died of lung cancer. (Richards accompanied Sambora to the funeral as a show of support, though they had ended their relationship by that point.)
"Richie has had a terrible year," a close friend of the musician tells PEOPLE. "I think this was a culmination of all these things and finally he realized he needed to take care of himself. He'd put off everything for so long taking care of everyone else it was just time to stop and deal with his issues."
It is not clear how Sambora's treatment will affect his role in Bon Jovi. The band's new album, Lost Highway, is due out June 19.
The group is scheduled to play some tour dates this summer, beginning June 24 in London, but it is a relatively light schedule. A much larger tour is being planned for 2008.
The band is also set to appear on an upcoming episode of MTV's Unplugged, which was taped in New York on Tuesday. MTV was inspired to created the Unplugged series in part by Sambora and Jon Bon Jovi playing acoustic at the 1989 MTV Video Music Awards.